Old Paulite Association
All boys, when they leave St. Paul's, join the Old Paulite Association. The subscription for life membership will be charged on the final school bill. Only members of the O.P.A. may wear the special tie, blazer etc., obtainable from the School Outfitters. Members may receive these on request. Many Old Paulites regularly contribute letters and articles to the School's monthly magazine. Others are encouraged to keep in touch with the School.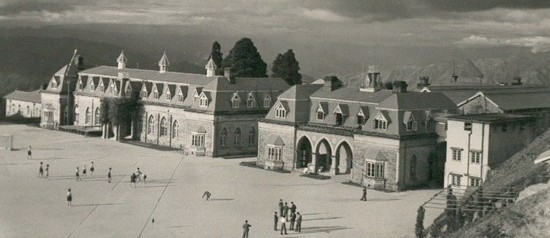 Notable alumni
Prithvi Raj Singh Oberoi – Executive Chairman of EIH Hotels, The Oberoi Group; Padma Vibhushan.
Major General D K Palit – Vir Chakra recipient for commanding the 9th Gorkha Rifles, author.
Rustum Roy – Physicist, In field of chemistry and materials sciences with 21 nominations to the Nobel Prize, He was awarded with Order of the Rising Sun, from the Emperor of Japan.
Ammar Siamwalla – Prominent economists of Thailand.
Rehman Sobhan – Bangladeshi economist and freedom fighter.
Anand Burman – Indian businessman, and chairman of Dabur.
Samiran Nundy – Founder editor of the National Medical Journal of India and Tropical Gastroenterology, recipient of India's Padma Shri
Karun Krishna Majumdar – During World War II, was the first Indian to achieve the rank of wing commander in the Indian Air Force
S.V.S Juneja – IAS, Former Joint Secretary and Additional Secretary in the union finance ministry. Former Director( Infrastructure Department) at the Asian Development Bank (ADB)
Lalat Indu Parija – IAS, Former Chief Secretary of Odisha, Author and Captained Odisha in the Ranji Trophy.
Navin Agarwal – Executive Chairman of Vedanta Resources
Amir Sultan Chinoy – Pakistan's leading industrialists (1948-70). Founder of Pakistan Chemicals, Pakistan Cables, and International Industries Ltd.
M. Anwar Afridi – Inspector General of Police (I.G.) Punjab, Lahore (1970) and was Pakistani Ambassador to Burma.
D N Bose– Former Professor at the Materials Science Centre and all Dean (Faculty and Planning) at IIT Kharagpur. Post-doctoral researcher at Penn State after completing post-doctoral research in the UK. Visiting Scientist at MIT. Visiting Professor in the Dept of Physics St. Xavier's College, Kolkata since 2013. Authored the books on material science.He was awarded Distinguished Material Scientist of the year award by MRSI( Material Research Society of India) in 2018 .
Zarir J. Cama – CEO (1998-2002) of the India operations of HSBC Group. From 2002 to 2007, he was the first Asian to be appointed CEO of HSBC group's Malaysia operations, and subsequently established a new International Division of HSBC in London. He serves on the Board of Tata Capital's international operations, and several other companies.
Indermit S. Gill – Professor of the Practice of Public Policy, Duke University, and nonresident Senior Fellow in the Global Economy and Development Program at the Brookings Institution. He was formerly the World Bank's Chief Economist for Europe & Central Asia (2008-13) at the culmination of a long career at the World Bank (including acting Chief Economist for East Asia and the Pacific, 2004-07, and directing the 2009 World Development Report).
Sanjay Ray Chaudhuri– Co-founder TV18 & Network 18,Sanjay was the creative head and Executive Director of TV18 for its first two decades. In 2015, Sanjay co-founded the OTT media and infotainment platform Arré, which is streamed on almost all taxis and limos in India.
Dev Sanyal – Chief Executive, Alternative Energy & EVP-Regions at BP. He was previously CEO of Air BP (the aviation-fuel arm of BP). He also serves on the Govt of India's International Advisory Board on Energy.[additional citation(s) needed]
Abhijit Raha – Former CEO, Credit Lyonnaise Securities (India and SE Asia), Former CEO, BNP Paribas (India and SE Asia).
Suraj Vaidya – Entrepreneur, Former President of SAARC Chamber of Commerce and Industry, Former President of Federation of Nepalese Chambers of Commerce and Industry,President of Vaidya Organisation Industries and Trading Houses,Honorary consul General of Republic of Philippines and the Advisory to the Prime Minister's Economic council. Board Member of school of Management, Asian Institute of Technology, Thailand.
Vivek Arora – Head of Risk Management in IMFand Author.
Salim Rahman – Managing Director of KDS Group, a business and industrial conglomerates of Bangladesh.
Peter Hildreth – Olympian
R.J. Minney – A British film producer, journalist, editor and author.
Jamling Tenzing Norgay – A mountain climber, Author and Recipient of National citizen award
Ajay Chhibber – The first Director General of India's Independent Evaluation Office (with the status of a union Minister of State), former Assistant Secretary-General of the United Nations (UN) and head of the Asia-Pacific division of the UNDP.
Vijay Chhibber – IAS, former Chairman of India's National Highway Authority of India, and Secretary, Ministry of Road Transport & Highways;Secretary, Min of Defence, GoI.
Mahesh Jethmalani – Lawyer and Senior Council, Supreme Court of India
Frank Blaker – Victoria Cross recipient
Paul Raschid – Boxer, Olympian.
Tashi Namgyal – The longest-reigning Chogyal (king) of Sikkim (r. 1914-63), who signed the 1950 treaty giving India suzerainty over Sikkim.
A R Shamsud Doha – Minister of Foreign Affairs from 1982 to 1984. He previously served as Ambassador to Yugoslavia, Iran and the United Kingdom, and was Minister for Information.
Farooq Sobhan – Diplomat, Foreign secretary of Bangladesh
George Emmett – Test Cricketer for England, Captain of the Gloucestershire cricket team in the 1955 to 1958
Raj Mahtani – Couture jeweller
Vishnu Som – Senior editor and principal anchor with New Delhi Television (NDTV)
Prasenjit K. Basu – Chief Economist (India & SE Asia), Credit Suisse; Asia chief economist, Daiwa Securities Group; author of Asia Reborn (Tata Literature First book award,2018).
Kelly Dorji – Actor and Author.
Vishal Gupta – Co- founder and CEO of Momspresso India's largest multilingual content platform for mothers.
Anjan Dutt – An Indian film director, actor, and singer-songwriter.
Kaizad Gustad – Bollywood Director and Author
Tashi Tenzing – A Nepalese mountaineer.
Sharad Kumar – Para games high jumper. Olympian.
Manish Choudhary – Bollywood Actor
Rajeev Mohta – Team gold medalist and individual silver medalist in Golf at the 1982 Asian Games.
Vivek Law – Award winning journalist and founder, CEO & Editor-in-Chief or The MoneyMile.